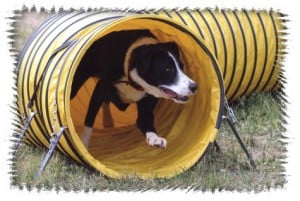 Agility has quickly become an exciting pastime in the US for many dogs and owners, as well as a mass of intrigued  onlookers. Developed in England in the late 1970s, the sport was first recognized by the AKC in 1994. Dog agility resembles equestrian jumping competitions. It is conducted on courses built to a smaller scale but consisting of various similar obstacles. These include colorful jumps, vaulted walks, seesaws, A-frames, and tunnels. Handlers help their dogs navigate the course by running alongside them, giving verbal commands, hand signals, or both.
There are many similarities between agility training and obedience training. Dogs participating in agility need to be as physically fit as those competing in obedience. Also, like obedience, agility helps teach confidence – in this case by providing dogs with the opportunity to rise above both physical hurdles and the equally challenging hurdles of shyness and fear. And like obedience, agility welcomes dogs of all breeds and mixes of breeds.
One striking difference, however, is that dogs must be 12 months old to compete in agility. Another difference is that in the agility environment the handler is free to talk to the dog and cheer him on during competition. Many see this as a major advantage of the sport.
The biggest drawback to agility is the difficulty many owners face making room to practice the maneuvers with their dogs. The necessary equipment takes up a great deal of space and is extremely cumbersome to repeatedly assemble and unassemble. This equipment, which consists of numerous pieces, can also be rather expensive. In some areas, however, entire agility rings can be rented by the hour or by the day, making agility training more feasible for many owners.
Many people wonder if the Chihuahua's size is a hindrance when competing in this sport. Surprisingly, Chihuahuas are impressively adept and confident in the agility ring, perhaps in part due to the enthusiastic response they always seem to elicit from the audience. There is, after all, something especially inspiring about seeing this tiny dog prove that he can indeed do virtually anything the bigger dogs can do.
If you are interested in involving your Chihuahua in agility, but worry about the possibility of injury, schedule a physical exam with your dog's veterinarian and ask about the specific risks involved (based on your dog's health and current fitness level). If your dog is not accustomed to intense physical activity, your vet may suggest easing into a more concentrated routine. Although each dog is different, the general threat of injury to a Chihuahua is no greater than that of any other breed.
As in obedience competition, a dog entering agility will begin competing at a novice level. Succeeding at this introductory stage will earn your Chihuahua the title of Novice Agility Dog (NAD). Subsequent titles are then available in the following order: Open Agility Dog (OAD), Agility Dog Excellent (ADX), and Master Agility Excellent (MAX). In order to obtain each title, a dog must earn a qualifying score in the respective class on three separate occasions and from two different judges.
Dog Agility
was last modified:
April 3rd, 2013
by