In the 1970s a group of dog trai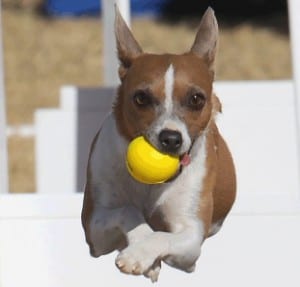 ners added tennis balls to an obedience and scent-discrimination exercise. At first the addition seemed like no big deal, but dogs and their owners picked up on the intensity of the new sport, and it slowly built up a steady fan base.
A performance on the Johnny Carson television show added to its popularity. The National American Flyball Association (NAFA) reports membership of about 16,000. The field is small but growing as more people watch competitions.
A high-octane sport, flyable is especially suited for dogs who love to run and chase tennis balls. If you adopt or have a loving and smart but destructive dog, fly ball might be the answer. Channel his negative energy into the sport and you might end up with a champion.
Owners must be fit and trim to handle the demands of flyball. You end up running as fast and as far as your dog. Each team has a minimum of five handlers and no more than six dogs. Four 51-feet-long tracks are lined with mats. A flyball box at one end contains tennis balls. Hurdles are spaced 10 feet apart. During competition, dogs leap over the hurdles and jump up and hit the flyball box with all four paws.
The pressure releases a tennis ball, which the dog grabs. Pushing off the box, he leaps back over the hurdles, speeding toward the finish line. As one dog finishes, the next one is released. Speed is of the essence as these amazing speedsters fly through the course. The dog team with the fastest time wins the game.
Dogs of all breeds compete in flyball. Speedy dogs such as Border Collies, Greyhounds, and Australian Shepherds stand out, but other breeds such as Beagles, Jack Russells, Bichons, and Chihuahuas also join the fun. Flyball clubs report rescued dogs as members too. If your Chihuahua is active, loves to run and chase balls, and gets along with other dogs, flyball might be in his future.
As with other sports, a dog must obey basic commands, not show aggression, and be in good health to engage in flyball. Check NAFA for a flyball club near you. Training is demanding for both you and your dog.Expect to shell out money for tournament fees, dues, and equipment rental. But flyball handlers form close ties from working with each other. Seeing their dogs compete and even sometimes win makes them proud.
Flyball For Dogs
was last modified:
April 3rd, 2013
by