Probably most of you has the sa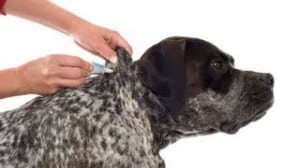 me dilemma when it comes to these parasites: how to remove a tick from a dog? Here's the best way to do it.
You'll need a pair of disposable vinyl or latex gloves (many supermarkets carry these, as well as drugstores), cotton balls, hydrogen peroxide, a pair of tweezers or a tick remover, rubbing alcohol, and a jar with a lid. Pour a half-inch of rubbing alcohol in the jar, and put on the gloves. Using cotton balls, soak the skin with hydrogen peroxide where the tick is attached. (This doesn't do anything to the tick but helps kill some of the bacteria on the skin.)
Using the tweezers or tick remover, gently grasp the tick as close to the dog's skin as possible, and pull steadily until the tick comes off. Do your best not to squeeze the tick's body while you're pulling, because you want to avoid squishing tick fluids into the dog's skin. Put the tick in the jar with the alcohol and cap it. Wipe the area where the tick was attached with a little more hydrogen peroxide to clean it.
Go over your dog carefully to make sure you haven't missed any ticks, and don't forget to check the head and face. Even if you think you've gotten all the ticks, it's not a bad idea to put a Preventic collar or Frontline on your dog afterward, just in case. Throw away the sealed tick jar when you're finished.
A bump or welt may appear on the dog's skin after you remove the tick. People often worry that this means the tick's head is stuck in the skin, but more often the bump is inflammation, like a mosquito bite. If the bumps seem to bother your dog, you can put cool compresses on them for five minutes at a time a couple of times a day until they subside. Don't apply any creams or ointments to bumps that your dog can lick, because lick them she will, which prevents the ointment from doing any good and may give her an upset stomach.
What if there are tick mouth parts stuck in the skin? Normally no special treatment is needed. Check the area once a day, and if the bump should become hot or painful, get considerably larger, or ooze blood or fluid, then have your vet take a look.