If you want to se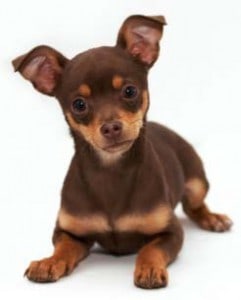 e more than a hundred breeds of gorgeous dogs gathered in one place, start attending dog shows. Beside seeing beautifully groomed and trained representatives of all your favorite breeds, you become acquainted with rare breeds that few people ever get to see. Agility and obedience trials often are held in the same venues as dog shows, too. Dog shows are fun regardless of whether or not you understand the judging procedure, but a little knowledge will make your first experience more rewarding.
Dogs not entered in competition aren't allowed at dog shows, so leave your Chihuahua at home when you go to a show just to check it out. Rather than a dog, put a notebook on your lap and jot down your impressions of why certain dogs won. Later, if you get into the dog game, dig out that notebook and read what you wrote. Your first impressions may help you handling.
To be eligible to show conformation, your Chihuahua must be:
At least 6 months old
AKC registered with full registration or registered with the club sponsoring the event
Unaltered (spayed or neutered dogs aren't eligible to show)
How dogs are judged and the basics of dog shows
Dogs have the finest fur when competing at dog shows, and with so many gorgeous creatures to choose from, your first reaction may be to pity the poor judge. But a dog show judge has help in the form of guidelines, called the breed standard. The judge's job is to select as the winner the dog that most closely conforms to this written description of physical perfection.
In other words, no matter how many dogs compete in the show ring, the winner should be the dog that most closely resembles the ideal dog described in its breed standard. Second place goes to the next closest dog, and so on.
When taking part in dog shows, you see dogs of the same breed judged together early in the day. But later, you see the winning dogs of each breed competing against each other. That's when novices really get confused. After all, how can a judge choose between an animated Chihuahua and an elegant Pekingese?
Well, the judge isn't really comparing the Chihuahua to the Pekingese. Instead, he or she is comparing how close the Chihuahua matches its breed standard with how close the Peke matches its standard.
Winning or losing-it's the judge's call
Your first experience with subjective dog show judging may make you feel a little confused. Most of the better-known sports are judged objectively. During games of baseball, basketball, football, golf, or tennis, you always know the score. But it's different at dog shows, where winning or losing depends on the judge's opinion.
This concept can be confusing at first, especially when you see a dog get a "Best of" prize one day and not even place in its class the next.
The more you discover about canine conformation and the Chihuahua standard, the better you'll understand how each judge picks his or her winners. One judge may be a stickler for movement. A superior head may sway another. Because judges interpret the standards in their own unique ways, different dogs may win under different judges. And that's a good thing because it lets many excellent dogs have their days in the sun.
Plus, dogs are judged on the day, or, to be more precise, in a moment of time-something like the way humans judge themselves when they confront their images in the mirror each morning. On Saturday, you may smile and congratulate yourself on looking years younger, but then on Sunday you may appear drawn and weary. Well, dogs have good days and bad days too, and a judge can only go by what dogs look like during the few moments they're exhibited.
An elimination contest
Shows where dogs are judged on their conformation are elimination contests. The process of an elimination contest has many steps, which is shown below:
All the dogs of a single breed compete with others of their sex in one of the regular classes: Puppy, 12 to 18 Months, Novice, Bred-by-Exhibitor, American-bred, or Open.
First-place winners of the same sex from each of the classes compete against each other for Winners Dog.
Winners are awarded points toward their championship and return to the ring for Best of Breed (or Variety) competition. Dogs that are already champions are called Specials, and they also compete for Best of Breed or Variety.
When Chihuahua judging is complete, all but the Best of Variety winners are finished for the day. The Best of Variety Chihuahuas are now eligible to compete in the Toy group. The Toy group is where all the Toys that won Best of Variety compete for group placements.
Following a group judging and elimination, only seven dogs-the first-place winners from each group-are left in the show. During the climax, they compete for Best in Show (BIS).  
 Three awards are presented in the final elimination contest at the breed level:
The top specimen is awarded Best of Breed or Variety.
The best dog of the opposite sex than the Best of Breed is presented with the Best of Opposite Sex (BOS) ribbon.
The best of the two class winners is named Best of Winners (BOW).
When the show is over, only one undefeated dog remains-but couple hundred dogs may have earned points toward their championships, and many others thrilled their owners by placing high in their classes.
Becoming a champion
To become an AKC champion on different dog shows, your Chihuahua must win 15 points, including points from at least two major wins. The two majors must be awarded by different judges, and at least one of the remaining points must be won under a third judge.
The number of points your Chi may be awarded for going Winners Dog at a show varies. It depends on how many Chihuahuas competed, the schedule of points established by the AKC, and whether your Chi goes on to win Best of Winners, Best of Variety, her Group, or even Best in Show. The most points ever available at a show is five, and the fewest available is one. Your Chi must win points at a minimum of three shows to earn a championship. Five-point majors are few and far between and competition is keen, so most Chihuahuas are shown several times before becoming champions.
The ups and downs of attending dog shows
All hobbies have their good points and bad points. We list some of the things, both positive and negative, you may want to consider before deciding you want to show your Chihuahua.
The upside of showing dogs
Here are the many benefits that come with competing in dog shows:
Competing with your dog is fun and exciting.
You can make new friends with people who have similar interests, and you may be invited to join dog clubs.
Many obedience schools offer conformations classes where you and your Chihuahua can both make new friends.
Depending on your goals, it can be a casual or an absorbing avocation.
Showing dogs is educational. If you go in with an open mind, you'll discover something new every time you attend a show.
You get to meet the top Chihuahua breeders.
Becoming seriously involved means you may become a breeder.
Training your Chihuahua for the show ring strengthens your bond.
Showing involves traveling.
You get the opportunity to learn from your losses to make you a better competitor.
Winning feels wonderful!
The downside of showing dogs
Here's the other side of the coin-the disadvantages of joining a dog show:
Winning at dog shows means you'll need a dog with superior conformation.
Showing dogs is expensive and requires some special equipment.
The alternative to training and showing your own dog is hiring a professional handler, which is expensive.
Training your Chihuahua for the show, is time consuming.
Showing can be stressful to dogs and their owners.
Showing involves traveling.
When you become seriously involved, breeding dogs becomes a probability.
The sport can take over your life. Between conformation classes, club meetings, dog shows, and breeding, showing dogs can become all-encompassing.
If you are involved or have been involved in different dog shows before, feel free to share your experience with us!
Taking Your Chi To Dog Shows
was last modified:
April 3rd, 2013
by