Some Chihuahua owners e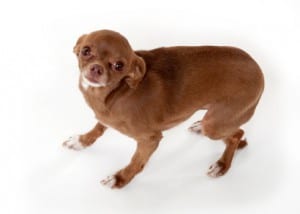 njoy making the most of their dog's intelligence and dexterity by participating in dog sports like obedience and agility. Others like to show off their dogs' beauty in the wondrous world of dog shows. Chihuahuas can also earn Canine Good Citizen Certificates and serve  as therapy dogs. Sporting events for dogs may occur indoors or outside in all kinds of weather.
Be aware that your Chihuahua won't be allowed to wear a sweater during competition. Your Chi won't do her best when she's chilled, so plan to attend dog events during the warm months unless the trials take place indoors.
Beginning Obedience Training
During classes, your Chihuahua discovers how to work with you despite distractions like  strangers and other dogs. The happy result is enhanced companionship. Some simply call it teamwork.
Whatever you call it, obedience training provides a great background for any other activity you may want to do with your dog. If an obedience instructor suggests a training method or correction that doesn't feel right to you, don't do it. It's your dog, and you have the final say in her training.
Years ago, common knowledge said that dogs should not attend obedience training school until they're at least 6 months old. Back then, obedience exercises were just tools people practiced on the training field once a week and for a few minutes a day at home. Today obedience training schools are modernized. Contemporary classes concentrate on practical training, and up-to-date instructors tell their students how to incorporate the training into everyday life.Modern instructors also emphasize positive reinforcement rather than punishment so younger dogs learn without becoming stressed. We also know that 4 months is an ideal age to enter your Chi into a novice class.
The basics of obedience training
In a novice obedience class, a Chihuahua learns how to:
 Heel (walk in the traditional position by your left side) on and off lead
Sit when you stop
Go down on command
Stand quietly while a friendly stranger pets her
Come when called
Remain in both the "Sit" and "Down" positions amid distractions from other dogs
Best of all, provided that the training is positive and upbeat (don't stick around if it isn't), your Chi gains considerable confidence from the classes. Dog clubs and private instructors offer obedience training for your dog. They're advertised in the Yellow Pages or the newspaper. Your veterinarian may also have info about nearby classes, and some pet supply stores offer them right inside the stores.
Although the ultimate goal of obedience is a happy partnership with your dog, obedience also is one of the most popular dog sports. If your Chihuahua enjoys the training, you can turn obedience into a hobby and enter trials.
Obedience Training For Your Chihuahua
was last modified:
April 3rd, 2013
by